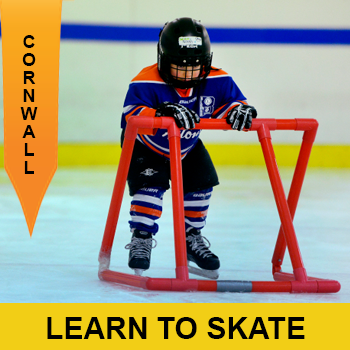 Learn To Skate 2020/2021
Covid 19 Red Zone - Program will continue as normal ,we are under the 9 participants for this program.
Own The Ice Hockey is offering a Learn to Skate 8 Week Program for children age 3 years and above who want to learn the basic fundamentals of skating. We will be using our Synthetic Ice Rink in our Own It Performance Centre for all sessions. Synthetic ice is ideal for learning to skate/ beginner programs as it is much less expensive and can be a more controlled environment with a lower student to teacher ratio. Also much of the time is spent learning to stand up, balance and glide. The synthetic ice is excellent for this as there are no ruts/grooves in the surface and it provides a constant friction.
Players who can't finish ,or who are not ready to participate can get credit towards another program ,or join in at later time .
Instructor: Donna  Winter
Schedule: Tuesdays - (8 Sessions) winter  2021 we will email start times to each participant prior to first session.
5.00-5:45 pm Group A (Ages 3+)
5:45-6.30 pm Group B (Ages 5+)
6:30-7:15 pm Group C (Ages 9+)
Session 2:  8 Sessions Winter 2021
Feb ,23,
March 2, 9, 16, 23, 30,
April,6,13
Cost: $180 Tax Incl. Register online 
Location: Cornwall Sports Centre, 412 Fifth Street East Unit 108
BACK OF BUILDING .
*45 minute Learn to Skate Lesson
*6 Skater Maximum per session
Cost: $ 180.00 Tax Incl.
PLEASE REGISTER ONLINE .
Private Sessions also available.