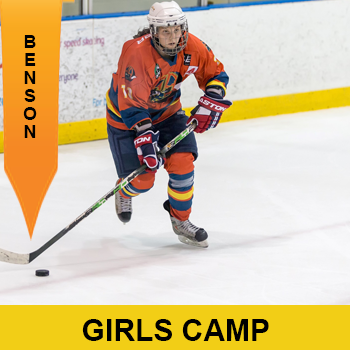 July 9th to 13th
Aug 13th to Aug 17th
SOLD OUT
Girls Week Ages 6-8 and 9-12
Own The Ice Hockey - Skating evaluation and Corrective Skating
This program is geared toward a player who wants to improve their game by learning the basic concepts of hockey including skating, shooting and passing. Once fundamentals have been grasped advanced techniques will be slowly introduced.
Groups will be divided into 3 zones to ensure players are with others of the same calibre/age and so that they receive more small group attention from the instructors.
*18 Girls Maximum to increase repetitions*
Location: Benson Centre - Pad 2
Schedule:
Daily, Jul 9-13, 9-10:30 am
Complete Video Report Card -Skating /Puck Control
Instructors:
Brock McBride (AHL/Europe)
Jeff Carter (CIS, Former CJHL Coach)
Brent Loney (AHL/OHA AAA Coach)
Ian Macinnis (Coach Cornwall Colts
Each player will receive:
7.5 hours of professional On Ice Instruction
1 Own The Ice Hockey Jersey
1 Detailed Player Skating Evaluation Report Card
Class room -Video session -personalized
Program Breakdown:
Power Skating Element
Forward Skating: Stride Mechanics, Edge Control, Quick Starts, Stopping, Balance Points, Stride Recovery
Backward Skating:  C cuts, Backwards Crossovers, Deep posture, Pivoting
Individual Skills Element
Shooting/Passing:  Weight Transfer, Follow Through, Quick Release, Body Positioning
Puck Handling: Soft Hands, Hand Positioning on Stick, Utilizing Stickblade, Deking
Game Scenario Element
Situational Play: Positional Concepts, 3 on 3, Scrimmages
Cost: $200 plus HST
Please feel free to call Jeff Carter 613-360-0711 or jeff@owntheicehockey.com
* Skating and Skills will be broken down during the week through video. A personal skating and skills evaluation will be given to each participant at weeks end outlining strengths and weaknesses