Full Week Skill Development Camp 2020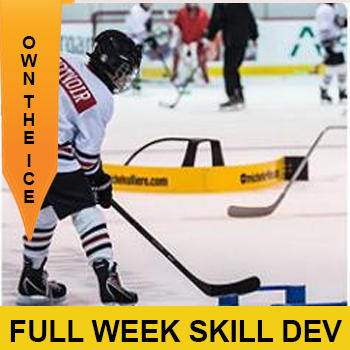 CANCELLED DUE TO COVID 19 RESTRICTIONS ON GROUP SIZES .
SEE YOU NEXT SUMMER 
Full Week Summer 2021 5th annual
 Own The Ice is offering a Full Day Summer Fun Camp in August 2021 .
Power Skating: edge work, balance, stride mechanics, cornering, conditioning element, footwork
Skills & Shooting: Mechanics for snap shot & wrist shot, weight transfer, proper follow through, shooting in motion, deking, puck-handling, maneuvering through traffic, puck-protection
Recreation: soccer, frisbee, other sports
Video: Individual corrective video, team concepts, proper mechanics for skating/shooting. Each day your player will be videoed during the am skating session and will be given a Skating Analysis report to help her  improve and visual feedback each day.
Dry land: Injury Prevention, Flexibility, Agility, Balance and Core Strength, Conditioning
Schedule: Mon Aug 10 - Fri Aug 14   2020 , 9 am - 4 pm
Instructors : Head On Ice - Brent Loney -Former Professional Hockey Player and coach - Skills pm sessions 
 Head On Ice -  Devon Brunet - Skating am session 
 Head On Ice -  Grant  Cooper -player  Clarkson University  Golden Knights 
                          Head On Ice -  Girls Program  Kristi Pigeon -player Clarkson University Women -Golden Knights   
Off Ice -           Scott Stoqua                 
Boys and Girls
Group 1 - Ages 6 to 8
Group 2 - Ages 9 to 12
Players Receive: 3 Hours/Day of On Ice Instruction (15 hours)
Goalies: 3 Hours per day with players. No goalie instruction. Will par take in all drills with players for the ice sessions.
1 Hour/Day of Correctional Video/Board Work
1 Hour/Day of Dry land
1 Hour/Day Recreational Activity
(Sample Daily Schedule)
9-10 am Recreational Activity
10-11 am

Group 1(Ages 6-8)Power skating
Group 2(Video)
Goalies (Recreational activity)

11 am - 12 pm

Group 2 (Ages 9-12) Power skating
Goalies(Video)
Group 1 (Recreational activity)

12-1 pm

Group 1 (Video)
Group 2 (Recreational Activity)

1-2:30 pm

(Group 1 Shooting & Skills) Goalies on Ice
(Group 2 - Dryland Training)

2:30-4 pm

(Group 2 Shooting & Skills) Goalies on Ice
(Group 1 - Dry land Training)
Cost:
Player: $355  plus Tax
Goalie: $200 plus Tax