High Performance Summer On Ice & Training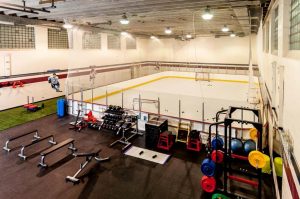 Ryan Dewer - Personal Trainer
Own The Ice would like to extend you an invitation to participate in our Off-Season High Performance Training Program for Summer 2023. This off-ice strength and conditioning program aims to complement on-ice sessions to prepare elite players and prospects for the upcoming 2023-2024 hockey season.
Training Facility
Off-ice training sessions will take place at the Own The Ice training facility. Own The Ice is 3000 square foot training facility with a variety of strength and conditioning equipment, a synthetic ice surface, skating treadmill and more. Its combination on- and off-ice training modalities make it Cornwall's most comprehensive hockey training facility.
Training Staff
Ryan Dewar
Ryan will be developing all programs for the athletes participating in the Off-Season High Performance Training Program. Ryan has completed his Bachelor of Science (biology major) at Bishop's University. He then went on to complete postgraduate studies in Scotland where he obtained a Master of Research in Sport Biomechanics and Rehabilitation as well as a Master of Science in Physiotherapy. Ryan uses a science-based approach in his programming to help reduce the risk of injuries and optimize hockey-specific performance.
Ryan has extensive experience in athletic settings as both a player and trainer. While competing in the Canadian University Field Lacrosse Association with the Bishop's Gaiters Men's Lacrosse team, Ryan was honoured as All-Canadian Attackman. He is currently a member of the Snake Island Muskies in the Three Nations Lacrosse League. Ryan also works as the trainer for the Akwesasne Jr. B Thunder, Charlan Jr. B Rebels and Team Scotland Men's Field Lacrosse team.
High Performance Training
Training sessions will be performed in small groups (4-8 players). Training sessions will run parallel to the High Performance On-Ice programs (see schedules on page 3). Athletes will be provided with strength and conditioning programs tailored to their individual needs and goals. Baseline measurements will be taken at the beginning and termination of the program to track progress. Programs will consist of 3 phases whose details are outlined below:
Phase
Goals
Phase 1 – Build the Base

(2-4 weeks)

-Movement capacity/mobility

-Structural tolerance

-Aerobic capacity

Phase 2 – Hypertrophy

(4-6 weeks)

-Strength

-Aerobic capacity

Phase 3 – Explode + Conditioning

(2-6 weeks)

-Power and speed development

-Anaerobic power and capacity
Training Schedules
Pricing reflects off-ice training programs only.
 Group 1 – Pro/NCAA/OHL/Junior
 4 sessions weekly (May 7-August 26)
Group 2 – U18 AAA/Midget
 4 sessions weekly (May 7-August 26)
Group 3 – High Performance AAA/AA
4 sessions weekly (May 7-August 26)
Group 4 – Girls Elite
 4 sessions weekly (May 7-August 26)
All Package Options for above groupings:
-Option 1: 16 weeks (64 sessions)
May 7 – August 26 (960$)
-Option 2: 12 weeks (48 sessions)
June 4th – August 26 (720$)
-Option 3: 8 weeks (32 sessions)
July 2 – August 26 (480$)
Off-ice Training Schedule