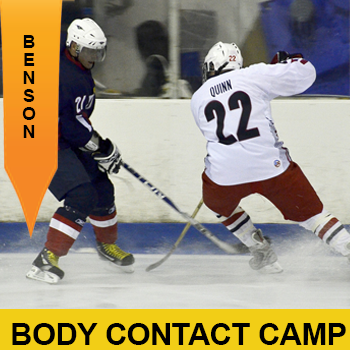 Body Contact/Puck Protection
Own The Ice Hockey is running a Body Contact Camp due to a high demand for both defence and forwards to be able to learn the proper techniques of using your body to protect the puck or separate an opposing player from it. In addition to this, our Body Contact Camp will show players how to protect themselves on the ice while receiving body checks. Within the game of hockey 1 on 1 battles occur all over the ice during a game and its important to learn how to engage in them. Learning how to win stick battles is also a very important tool for any hockey player big or small. Through learning proper body positioning and developing an awareness of your surroundings the game becomes a lot more simple!
This program is designed for both forwards and defense.
Maximum of 12 Skaters broken into 6 skaters per zone to increase reps and personal instruction.
*Competitive players only
Program Breakdown:
Battle Drills: 1 on 1, 2 on 2, 3 on 3 in tight spaces, Staying low,
Body Contact Concepts: Angling, Loading and Unloading, Proper Routes to Puck, Puck Separation, Body Positioning, Rolling off checks
Situational Tactics: Eliminating Sticks, Danger areas, Pinning, Net front Battles, When to hit vs when to play the puck.
Instructors:
Brent Loney ( Former Pro Player /Professional Coach )
Jeff Carter (Former coach Brockville Braves Jr A)
Location:Benson Centre
Schedule: Check in July 16th @ 12:15pm
July 16th- 1:00pm- 3:00pm
July 17th- 11:00am-1:00pm
July 18th- 9:00am-11:00am
July 19th- 9:00am-11:00am
Cost: $250 plus HST
Sibling Discount: Enroll 2 children from the same family in the Same Camp and save 35$ on one child's fee.
Each Player will receive:
8 hours of On Ice Professional Instruction
1 Own the Ice Hockey Jersey
Low Player-to-Instructor Ratio ( ~4 to1)