Stickhandling & Agility Summer Camp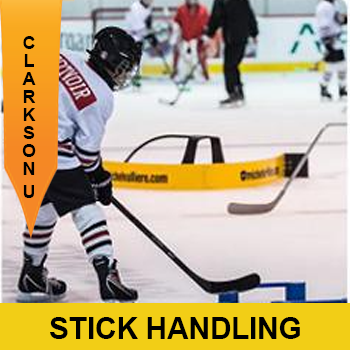 Stickhandling & Agility Clinic
Our Stickhandling & Agility Clinic will incorporate various stick skill drills that will progress in difficulty. Individual puck control drills such as, stickhandling, puck protection, deking, and fakes will be used to build a players overall confidence handing the puck. Small area drills to mimic puckhandling through traffic and tight areas will stress the importance of a player having their head up while controlling the puck at high speeds. Lastly we will use reactionary drills to improve our player's overall agility.
Each Player will receive:
8 hours of On Ice Professional Instruction
1 Own the Ice Hockey Jersey
Low Player to Instructor Ratio ( ~4 to1)
Location: Cheel Arena
Schedule: Aug 6-9, 9-11 am daily
Instructors:
Josh Hauge - Clarkson University Coach
Sean Flanagan - Cornell University Coach
Mark Phalon - Hobart University Coach
Grant Cooper - Clarkson University Player
Cost: $250 US
Sibling Discount: Enroll 2 children from the same family in the Same Camp and save 35$ on one child's fee.
Register: To register call Jeff Carter at 613-360-0711 or email jeff@owntheicehockey.com