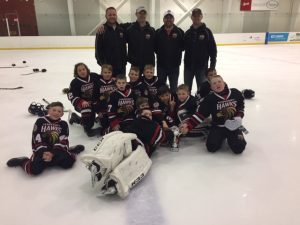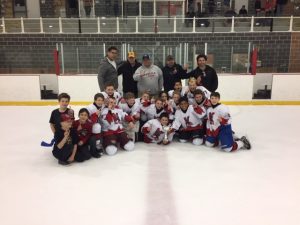 Info - Divisions and Teams
Border Town Challenge 5TH Annual Spring AAA
Tournament Cancelled due to COVID-19

5 Games Guaranteed   Non Contact 1250.00 plus tax  Contact 1350.00 plus tax 
Divisions are filling up fast . Register and send 300.00 deposit ,Balance due April 1,2020
Weekend # 1 April ,24,25,26 2020
2005 Open and D3 Division  Contact
2007 D2 Contact Full
Kingston Wolf Pack AAA x
Own The Ice Colts Harty  AAA  
Rapid Hockey AAA
Ottawa Hammerheads AAA x
Rushforth Selects AAA X
2007 D3 Contact 1 spot 
Own The Colts AAA
Ottawa 67'S Crawley AAA x
Rapid Hockey AAA 
Metcalfe Mayhem AAA x
2009 D2 6 Teams Full
Devils AAA x
OTI Colts AAA  Wilson x
Bytown Barons AAA x
Rapid Hockey AAA 
Ottawa Capitals AAA
Can -Am Stars AAA x
2009 D3 5 Teams
Max Puissance Duguay Sports AAA x
McDonalds Electric AAA -x
Pilon Kitchens AAA x
Rapid Hockey AAA 
Bangma Crunch AAA x
Leverage Tek Wolves Demers AAA x
2011 D2 Full 
Rapid Hockey AAA 
Rushforth Selects Tessier AAA 
Ottawa Valley Vipers AAA -X
Dragon De Prescott Russell AAA
2011 D3
Macdonald Electric Menard X 
Rapid Hockey AAA 
Weekend # 2 May,1,2,3   2020
Divisions
2006 D2,D3   (Contact) Full
Oti Colts Pitbaldo AAA
Rapid Hockey Montreal AAA
OTI Colts Leroux AAA
Casselman Pirates Roy AAA 
Pierre Gagnon TBA 
2008 D2
Hyundai Rebels AAA
Casselman Pirates Wathier AAA 
Own The Ice Dixon AAA x
Ottawa Valley Elite AAA x
2008 D3 
OTI Colts Pilon AAA x
Rockets 08 AAA x
Pirates Pyke AAA 
South Ottawa Knights AAA x
2010 D3
OTI Colts Fontaine AAA x
Kelly Homes Crushers AAA x
Rockets 10 AAA x
Rom AAA x
Pirates Rioux AAA 
Rapid Hockey AAA 
 2010 D2 6 Teams
Myers Snipers West AAA x
Houde Mechanical Heat AAA  x
Rapid Hockey AAA Montreal 
Myers Snipers Lavergne AAA x
Ottawa Valley Lumberjacks AAA x
Eastern Ontario Storm AAA  
LeverageTek Wolves AAA 
2012 D2
Own The Ice Colts Leroux AAA
Casselman Pirates Wathier AAA
Sleepwell Prospects AAA x
Maple Soft Hawks Bowes AAA  x
 Valley Elite AAA Andress AAA x
2012 D3 
Rapid Hockey AAA 
Myers Snipers Brothers AAA x
OTI Colts AAA
Casselman Pirates Bouchard  AAA
 Myers Snipers AAA Black AAA x
South Bank Chargers AAA x
2013
 Own The Ice Colts AAA
Casselman Pirates AAA Gascon
Girls U 12
Ottawa 67'S Defazio AAA x
Ice Queens Cornwall AAA x
Canton Blades AAA 
Smith Falls Sting AAA x
Deposit $ 300.00 balance due April ,1 ,2018
5 game guarantee
No gate fees
Email Transfer –jeff@owntheicehockey.com
Password -bordertown
For Team meal specials please contact :
Schedule to come
WEEKEND #1
WEEKEND #2
Border Town Challenge 2019     
                    Official Tournament Rules
All Hockey Canada playing rules will apply except:
Teams must be ready to start 20 minutes before scheduled game time.
Teams will be granted a 2-minute on-ice warm up.
Ice will be cleaned after the conclusion of each game.
A 5 member Coaching Staff (one of which must include a trainer) will be allowed on the bench at any time during the game.
Players must be on roster and  play in at least 1 game to be eligible to play in a championship game.
Maximum of 20 players per team to be registered on the first game sheet, 2 of which shall be goalies.
If a team chooses to dress only 1 goaltender and he/she get injured or ejected from the game, a second goaltender must be dressed and ready to play within 10 minutes of the injury, or play with six players.
All players, to be eligible to play, must be able to submitted proof of age 24 hours after a game. Any team using illegal players will lose their points and all points will be awarded to the opponents.
Full protective equipment must be properly worn at all times on ice surface including certified neck guards
Mercy Rule: Running time will commence after a 5-goal difference in the 3rd periods or 8-goal difference during any other point in the game. Stop time resumes if difference is less than 3 goals at any point in the game. The maximum goal difference for plus/minus will be 7.
Time out: one-30 second time out per team will be granted in the semi -final and championship game. NO TIME OUTS IN ROUND ROBIN
Overtime in the Quarter final, Semi Final and Final: A: 5 minute 3 on 3 periods B: Shootout. No player may take a second shot until all skaters have had a shot. i: best of five ii: sudden death
Points will be awarded on basis of 2-1-0 (Win-Tie-Loss).
The Tournament Convener decisions shall be final in interpreting the Rules and Regulations.
Any suspension will be determined by Tournament Convener
A player receiving a 2 min checking from behind penalty will not be ejected from the game. A 5 min. major will be an automatic ejection from the game.
The center red line will be removed for off side passes.
Body contact is allowed at the 2006 ,2005,2004 level and up.
The stick measurement rule is not applicable in this tournament.
All forfeited games will count, and non-played games will be scored as 7-0.
Round Robin tiebreaker (in order of priority) A: The winner of the game between the 2 tie team; B Most Wins C: Greater of the positive difference between goals for and goals against; C:  fewest goal against; D: : Team with fewest penalties. E: Coin toss.
It is the team responsibility to fill out their game sheet a minimum of 10 minutes before the schedule game time.
Payment: Once payment of tournament fee has been received Own The Ice Hockey will not reimburse for a team dropping out or for any other reason.
Punctuality: Team are responsible to confirm their next game with the tournament convener after each game.
Protests: No Protest will be accepted against a referee's decision. Protests will be written on the back of the game sheet and submitted with a non-refundable fee of $100.
Own The Ice Hockey has partnered with Room Roster for all aspects of tournament management for the Border Town Challenge . The Room Roster Event Support System is a convenient online web and mobile application built to handle registration, hotel accommodations for travel teams along with scoring and scheduling.
Upon registration, a Team Profile is created for each team in the Room Roster Event Support System. Team Managers seeking hotel accommodations can request any hotel of their choice to book through the Team Profile. Once the hotel is contracted and ready for booking, a link will be sent to the Team Manager to forward to all team members in order for them to reserve their room from the block created by the Team Manager.
For teams looking for help blocking rooms.
For general inquiries and reservation support please contact
Register:
Please call Jeff Carter at 613-360-0711
or
Email:
BENSON CENTRE
Address: 800 Seventh St W, Cornwall, ON K6J 0A3
CORNWALL CIVIC COMPLEX
Address: 100 Water St E, Cornwall, ON K6H 6G4
LONG SAULT ARENA
Address: 60 Mille Roches Rd, Long Sault, ON K0C 1P0
NORTH STORMONT ARENA (Finch Arena)
Address: 4 John St, Finch, ON K0C 1K0