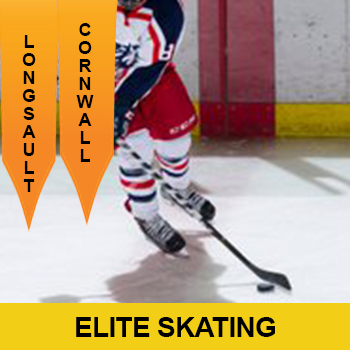 Preparation for Spring AAA Tryouts
In our Elite Skating Clinic we will introduce advanced skating concepts & techniques by incorporating them into drills designed to simulate game situations. An example of this would be to use edge control while carrying the puck through high traffic areas to increase mobility while maintaining balance for puck protection. Often times during a game one must change the way they skate based on the situation they are in. For example skating on a fore check is much different than how you skate carrying a puck when approaching a defender.
This is not a normal power skating clinic. All skating drills will incorporate a puck and focus on body and stick positioning while skating .
Change of Speed
Evasive Maneuvers
Shooting in Stride
Protecting the puck with speed
Driving the Net
Lateral Mobility
AAA and AA Players Only
Change of Speed
Evasive Maneuvers
Shooting in Stride
Protecting the puck with speed
Driving the Net
Lateral Mobility
Sessions ( 11.5 Hours of Instruction)
8 Players only per group (16 max players)
Groups:
Group: 2004/2005/2006 AAA, AA (Players Only)
Instructors: Todd Walker, Brent Loney
Schedule: 2020 HP 
Thu,Apr,2     7:30-9:00 pm,    Long  Sault
Thu Apr,9,    7:30-9:00 pm,    Long Sault
Thu Apr 16,  7:30-9:00 pm,    Long Sault
Thu Apr 23,  7:30:9:00 pm,     Long Sault
Thu Apr,30  7:30-9:00 pm ,    Long Sault
Wed  ,May,6  8:30 -10:00 pm    Finch
Mon ,May ,11 8:00- 9:00 pm    Finch
Wed  May , 13 8:30-10:00 pm  Finch
Total 11.5 hours
Cost: 300.00  plus tax    Register - www.owntheicehockey.com
Info -Jeff Carter 613-360-0711