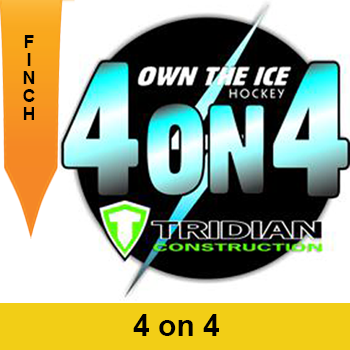 Location: Finch Arena
Schedule: Starts week of  April 1 ,2020  10 week schedule
10 Game Schedule includes Play-offs .
Game Times: Check Divisions for Game Times
Each team will have 8-10 skaters plus a Goalie and a Coach/Supervisor
Novice 2013/2011/2012)    6 teams  -
Atom    2009/2010)            6 teams  - 
Peewee 2008/2007             4 teams
(New Bantam)   2005/ 2006   Teams - will except Teams in this division (call Jeff Carter 6133600711)  jeff@owntheicehockey.com
Teams will be adjusted to ensure that all teams are competitive after week two . .
Line Matching: Lines will be matched according to player caliber in order to insure development for all while keeping the league competitive. The Coordinators will divide the players into four separate teams with designated lines that switch on the buzzer.
Cost:
Novice & Atom:       $170.00 plus Tax  *Jersey included
Peewee2007/2008     175.00 plus Tax *Jersey included
Bantam- 2005 -2006  $175 plus Tax * Jersey included
Novice Division
Atom Division
Peewee and Bantam Divisions
Novice Teams and Schedule below 
Note  Looking for 3 coaches per Team -please email Jeff Carter- jeff@owntheicehockey.com  6133600711
Please Note - we have one Saturday Game ,due to arena closing a week earlier .
Thursday April ,2 2020 
5:30 pm Canadiens vs Leafs
6:30 pm Flyers vs Lightning
7:30 pm Bruins vs Sens
Saturday April,4th 2020 
9:00 am Leafs vs Sens
10:00 am Bruins vs Lightning
11:00 am Flyers vs Canadiens
Thursday, April,9,2020
5:30 pm Flyers vs Bruins
6:30 pm Canadiens vs Sens
7:30 pm Lightning vs Leafs
Thursday April,16,2020
5:30pm Leafs vs Bruins
6:30pm Flyers vs Sens
7:30pm Lightning vs Canadiens
Thursday,April,23,2020
5:30 pm Canadiens vs Bruins
6:30 pm Sens vs Lightning
7:30 pm Leafs vs Flyers
Thursday ,April,30, 2,2020
5:30pm Lightning vs Flyers
6:30pm Canadiens vs Leafs
7:30 pm Bruins vs Sens
Thursday, May,7,2020
5:30 pm Lightning vs Bruins
6:30 pm Leafs vs Sens
7:30 pm Flyers vs Canadians
Thursday, May,14 ,2020 
5:30 pm Lightning vs Leafs
6:30 pm Flyers vs Bruins
7:30 pm Canadiens vs Sens
Thursday,May,21,2020
5:30pm Lightning vs Canadiens
6:30pm Flyers vs Sens
7:30 pm Bruins vs Leafs
Thursday May,28 th 2020 
5:30 pm
6:30 pm
7:30 pm
End of Season 
Novice Division Teams 
Canadians                             Leafs 
1                                             1
2                                             2
3                                            3
4                                           4
5                                           5
6                                           6
7                                          7
8                                           8
9                                           9
10                                        10
Goalie                                  Goalie
Coach                                   Coach
Coach                                  Coach
Bruins                                         Lightning 
1                                              1
2                                              2
3                                              3
4                                              4
5                                              5
6                                              6
7                                             7
8                                             8
9                                             9
10                                           10
Goalie                                       Goalie
Coach                                      Coach
Coach                                      Coach
Coach
Flyers Orange                         Senators Black
1                                           1
2                                          2
3                                         3
4                                         4
5                                          5
6                                          6
7                                          7
8                                          8
9                                          9
10                                       10
Goalie                                 11
Coach                               Goalie
Coach                               Coach
Coach
Peewee and Bantam Divisions