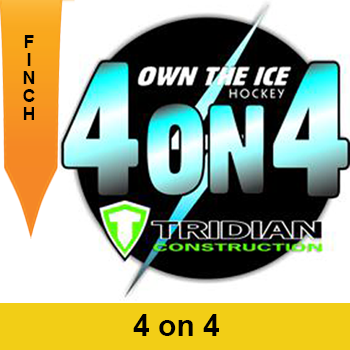 Location: Finch Arena
Schedule: Starts week of  April 1 ,2019  10 week schedule
10 Game Schedule includes Play-offs .
Game Times: Check Divisions for Game Times
Each team will have 8-10 skaters plus a Goalie and a Coach/Supervisor
Novice 2010/2011/2012)    6 teams  - (Players - waiting list only) 4  goalies needed. as of March 7 ,2019  
Atom    2009/2008)            6 teams  - Waiting List Only ,  
Peewee/Bantam 2007/2005/2006 The League will expand to 6 teams ,we have room for more players .Please register online tonight,we have room for six players and two goalie.,
as March,20th 2019
Teams will be adjusted to ensure that all teams are competitive after week two .
Line Matching: Lines will be matched according to player caliber in order to insure development for all while keeping the league competitive. The Coordinators will divide the players into four separate teams with designated lines that switch on the buzzer.
Cost:
IP, Novice & Atom: $165.00 plus Tax  *Jersey included
Peewee/Bantam: $170.00 plus Tax *Jersey included
Novice Division
Atom Division
Peewee/Bantam
Novice Teams and Schedule below 
Note  Looking for 3 coaches per Team -please email Jeff Carter- jeff@owntheicehockey.com  6133600711
Please Note - we have one Saturday Game ,due to arena closing a week earlier .
Thursday April ,4 2019 
5:30 pm Canadiens vs Leafs
6:30 pm Flyers vs Lightning
7:30 pm Bruins vs Sens
Saturday April,6th 2019 
9:00 am Leafs vs Sens
10:00 am Bruins vs Lightning
11:00 am Flyers vs Canadiens
Thursday, April, 11,2019
5:30 pm Flyers vs Bruins
6:30 pm Canadiens vs Sens
7:30 pm Lightning vs Leafs
Thursday April,18,2019
5:30pm Leafs vs Bruins
6:30pm Flyers vs Sens
7:30pm Lightning vs Canadiens
Thursday,April,25,2019
5:30 pm Canadiens vs Bruins
6:30 pm Sens vs Lightning
7:30 pm Leafs vs Flyers
Thursday ,May 2,2019
5:30pm Lightning vs Flyers
6:30pm Canadiens vs Leafs
7:30 pm Bruins vs Sens
Thursday, May,9 2019
5:30 pm Lightning vs Bruins
6:30 pm Leafs vs Sens
7:30 pm Flyers vs Canadians
Thursday, May, 16 ,2019 
5:30 pm Lightning vs Leafs
6:30 pm Flyers vs Bruins
7:30 pm Canadiens vs Sens
Thursday,May,23,2019
5:30pm Lightning vs Canadiens
6:30pm Flyers vs Sens
7:30 pm Bruins vs Leafs
Thursday May,30 th 2019 
5:30 pm Lightning vs Sens
6:30 pm Bruins vs Flyers
7:30 pm Leafs vs Canadiens
End of Season 
Novice Division Teams
Canadians                             Leafs 
1 Mya Lafrance                        1 William Moores
2 Josianne Lafrance               2 Jonah Droin Geurts
3 Charlotte Harty                    3 Trent Sloan
4 Ben Mcphail                         4 Samuel Richer
5 Elliot Francis                         5 Evan Dejong
6 Haley Thompson                 6 Wyatt Johnson
7 Jane Synott                           7 Rijker Roosendaal
8 Hank Whitton                      8 Madden McDonough
9 Jonas Tibben                        9 Cameron Cavangh
10 Jacob Hodge                       10 Nicholas Cavangh
Goalie Anneke Benton           Goalie Liam Hayes
Coach Brian Synott                  Coach Jeff Hayes
Coach Joe Harty                      Coach Jeremy Geurts
Bruins                                         Lightning 
1 Kaleb Robinson                       1 Carter Sadler
2 Cael Richer                              2 Cameron Seiber
3 Louka Seguin                          3 Patrick Goss
4 Noah Seguin                           4 Aren Gerhard Landmesser
5 Macallum Menard                 5 Gregor Filiol
6 Bentley Bonneville                6 Liam O Conner
7 Parker Chartrand                   7 Caden Perkins
8 Blake Esau                             8 Luke Van Loon
9 Carson Slade                         9 Jacob Wratten
10 Tyler Esau                            10 Gavin Filiol
Goalie  Sam Kirchmeier            Goalie Jack Fife
Coach Rob Richer                    Coaches Marc Filiol
Coach Jason Robinson          Coach need coach please email me
Coach Pat Menard
Flyers Orange                         Senators Black
1 Bryson Winters                   1 Xavier Greaves
2 Liam Dejong                       2 Mathis Guay
3 Aiden Renaud                    3 Justin Miller
4 Magnus Gough                  4 Allison Dunbrack
5 Colby Morozuk                  5 Ben  Murphy
6  Hunter Cleland                 6 Jackson Vanallen
7  Tyler Locey                        7 Alexia Gagne
8  Tilly Theiner                     8 Marika Hupe
9 Michaela Levac                 9 Landon Oar
10 Allison Winters               10 Lincoln Oar
Goalie Brady Benton          11 Willam Murphy
Coach Kevin Dejong            Goalie  Thomas Brisson
Coach Cory Winters              Coaches Jeff Dunbrack
Coach Ba